What To Wear To an End of Summer Wedding
September weddings are a unique blend of summer and fall vibes, making it a bit challenging to find a dress that strikes the right balance. You want to look elegant and chic, but at the same time, you don't want to freeze or sweat through the festivities.
Stuck on where to look for the perfect cocktail dress for petites? In this blog post, we've compiled versatile September wedding guest dresses that are perfect for cocktail, or semi-formal attire from stores that are perfect for the occasion.
Where to Shop for Trendy Wedding Guest Dresses
Check out this handful of stores that are simply splendid:
Anthropologie
Anthropologie has a gorgeous selection of wedding dresses for brides and bridesmaids, but also for wedding guests. You can choose between type of attire such as Black Tie Wedding, Cocktail Wedding, Backyard Wedding, and Beach Wedding.
I am obsessed with their Mock-Neck Draped Silk Dress, which comes in two colors, SOFT PATROL (a teal color) and BAKED PAPRIKA (an orange red color). It's makes for the perfect end of summer cocktail wedding guest dress with its shorter length, offset by the draped silk fabric. Not to mention the colors are great for September, being bright yet muted at the same time to end Summer and usher in the Fall season.
---
Reformation has a Wedding and Party Dresses section on their website, and it is the perfect place to find a wedding guest dress all year round.
This Casette Silk Dress in the color Artichoke is perfect for the end of summer, with a color that blends seamlessly into the Fall. It's bright enough for the end of summer, but muted enough to embrace the Fall season. It strikes the perfect balance of sexy and classy with its high neckline and open back, and will keep you comfortable all night long.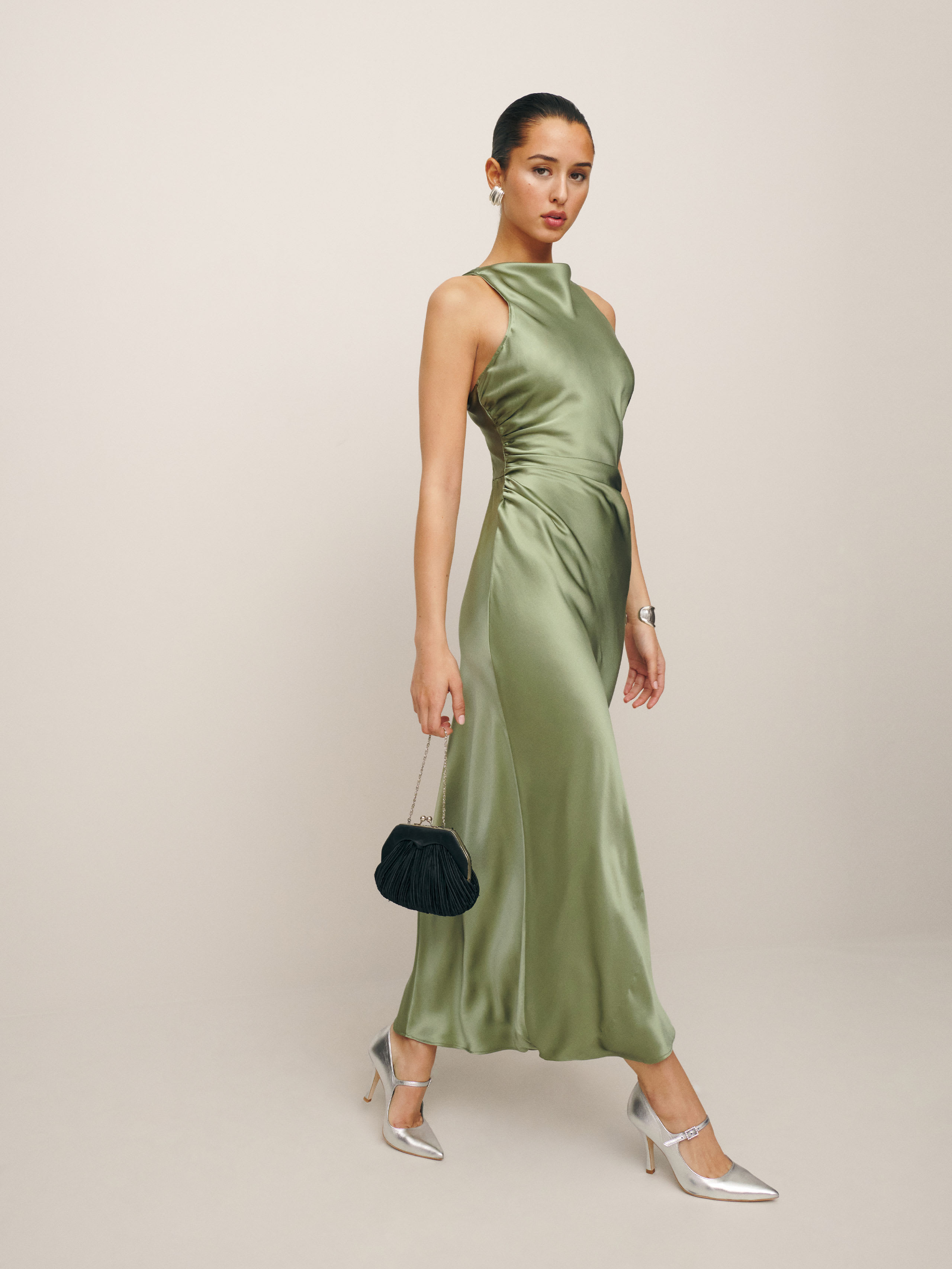 ---
Petal and Pup, an Australian brand, has a gorgeous and affordable selection of wedding guest outfits on their USA website. If the wedding is cocktail attire, they also have a section specifically for that, too.
Their DIANI DRESS – OLIVE is perfect for an outdoor wedding in late September. The color is a pretty olive tone with a sheer, almost metallic-like finish, making it fancy enough for cocktail attire.
If you're looking for a shorter cocktail dress, the Anabelle Halter dress is also a perfect choice. Its mock neck gives it a classy, sophisticated look, and the asymmetry makes it playful and unique at the same time. The teal color it comes in is a fabulous tone for the end of summer. If you want a longer length, it also comes in a Maxi version for those opting for a more formal style.
---
RESA
RESA is a woman-owned brand that manufactures in the USA in Los Angeles and has a gorgeous selection of wedding guest dresses that can work for semi-formal, cocktail attire, or beach weddings.
I absolutely love their NOELLE MAXI IN CAPRI because of its long sleeves, but also since it's lightweight so you don't get too hot. The maxi style can flatter any figure, and the design is just to die for.
Another great option is their MADISON SLIP IN SEABROOK, a gorgeous midi slip dress in a "seabrook" green color, which is nice for bringing on the Fall season. The black animal print on it gives it some unique flair, making it great for cocktail attire.
---
Lulu's
Lulu's offers a selection of wedding guest dresses by season on their website, making it so convenient to shop for this occasion.
Their Thriving Charm Berry Pink Pleated Long Sleeve Mini Dress is the perfect flirty, fun-loving choice for the end of Summer (and the Fall), since it has long sleeves and a shorter length. The chiffon fabric makes it perfect for cocktail attire, and the jewel toned berry pink is perfect for this time of the year.
Conclusion
So, as you attend an end-of-summer wedding, remember to celebrate love in style.
There are a variety of shops with a selection of wedding guest dresses, some organized by season, or attire (cocktail, beach, black tie.) This curated blog post includes ones that should definitely suit your needs. We hope you enjoy the curated selection, and find something trendy from one of these shops that suits you for the occasion!